This week we sadly said goodbye to one of our team Task members, Lesley-Ann, who has been with the company since she joined us as an intern over two years ago. Although it's always sad to see someone leave the team, we couldn't be prouder as she leaves us for an amazing opportunity. And seeing as the team is also expanding with two new members, Renata and Louise it seemed the perfect opportunity to celebrate!
We headed out last week for a team night of posh grub and cocktails at the ME Hotel in London. After reading Lesley-Ann's post about loving the rooftop bars in Singapore, we knew that the sophisticated vibe of this venue would be right up her street.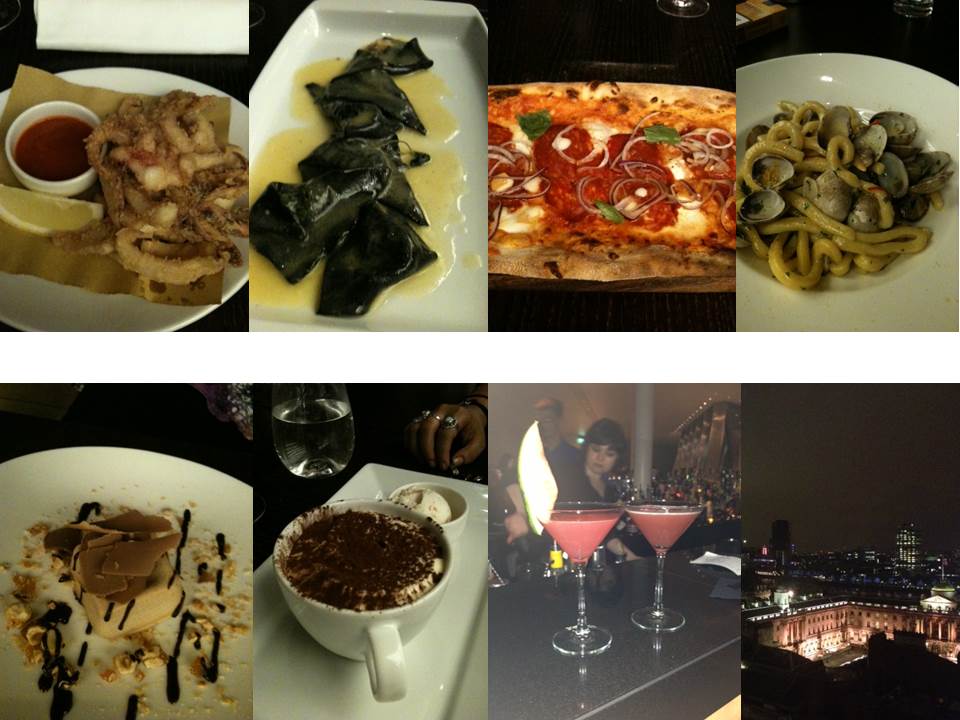 We started the evening with dinner at one of the Hotel's main restaurants, Cucina Asellina, an Italian artisan serving a delicious array of pasta dishes, wood fired pizza's and meats from the grill. The setting was both elegant yet relaxed and we were seated in the bar area with an amazing glass wine cabinet which reached from floor to ceiling behind us. The food definitely lived up to the hype too, calamari was a popular choice for starter as well as hot filled olives and buffalo mozzarella salads. For mains the clam pasta was a favourite but mention must also be given to the size of the pizza's which was more than enough for one. We finished the meal off with delicious desserts such as tiramisu served in teacups and toffee and chocolate flavoured ice cream mousse.
After dinner, we took the lift up to the 10th floor of the Hotel to visit the amazing Radio rooftop bar which served a huge choice of cocktails from the well known French Martini's and Margherita's to lesser known concoctions such as Radio-active and AM/FM. What really makes this bar special though is the spectacular panoramic views of London, overlooking Somerset House with the Gherkin in the distance, as the sun goes down the skyline is fantastic. Luckily the evening we visited it was warm enough to sit outside and clear enough to make the most of the views, the cocktails weren't half bad either! If you are interested you can even stay in the exclusive penthouse suite which sits at the end of the bar balcony and enjoys the best part of the view, it doesn't come cheap but the experience may just be worth it.
Thanks to the ME Hotel and Cucina Asellina for a fantastic evening. It's farewell and good luck to the lovely Lesley-Ann but hello to our equally lovely new team members.