The fashion month is nearly over and we are fully into the fall season. Before saying goodbye to this shiny merry-go-around – let's pin point the key moments of PFW.
Chanel – À LA PLAGE
Seaside for a Spring/Summer collection? Ground-breaking you would say! Although Chanel has taken this concept further than before The Grand Palais was reimagined a seaside – inspired by the island of Sylt where Karl spent his childhood. A sandy floor welcomed the lucky guests under an azure-coloured sky, and a real waterfront was the catwalk for the models accompanying with its waves the rhythm of the show.
Fringed and wide -brimmed straw hats, bright parasol prints and beach accessories have been the key points in the summery metamorphosis of the most iconic Chanel pieces. The tweed two-piece suits, the golden logo chains, the camellia and the pearl necklaces were still there even if painted in pink, golden sand, tan beige and pearly white and embellished with multicoloured sprinkles. An extra touch: the models carried shoes in their hands as if they were walking on the beach for real! #Chanelbythesea is all you need next summer.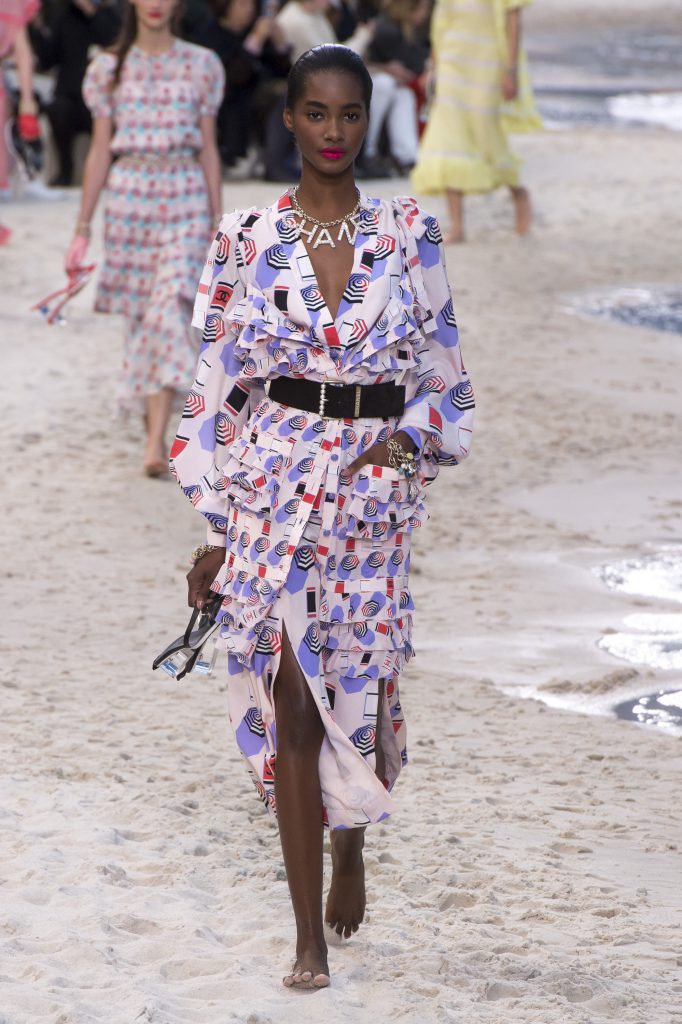 Dior –  A FASHION BALLET
Dance and fashion met on the runway, this time a dark spaced illuminated by soft spotlights under an endless rain of rose petals. Choreographer Sharon Eyal delivered the idea behind the collection saying, "dance and fashion define the body and, through discipline, teach us to own it". She created an ongoing performance perfectly harmonised with the show, from the music, to the moves, to the stunning costumes.
Key looks referenced famous dancers and choreographers, such as austere black dresses echoing Martha Graham and Isadora Duncan inspiring pleated and draped ones.
A theme of pairing styles was key to the collection – including baby-dolls paired with opera coat, signature Dior florals have been adapted into a mottled tie-dye print, sharp jackets cinched at the waist accompanied the swishing dresses in light taffeta. The grand finale saw a crowd of models walking among an entire ballet crew dancing relentlessly.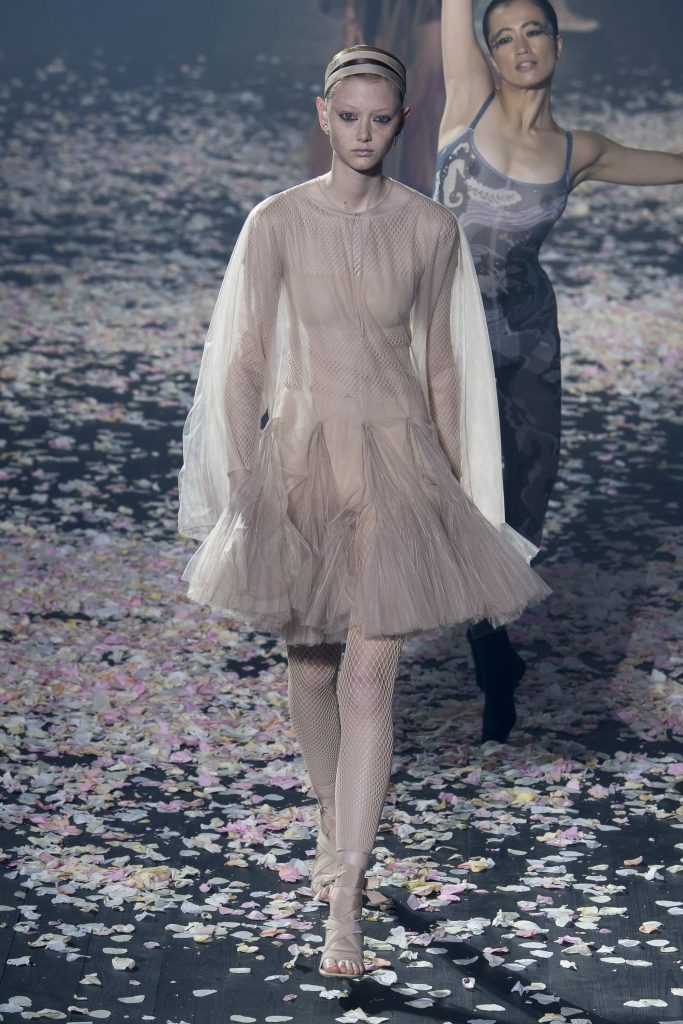 Off-white – THE OFF-WHITE TRACK AND FIELD
Sportswear is stable trend right now and we must thank no one else than Virgil Abloh for that. For Paris Fashion Week he moved a step further bringing Nike to the catwalk – combining classic athleisure with Parisian Haute Couture. A perfect crash of textures and silhouettes, athletic shoes transformed into kitten heeled pumps, the biker shorts paired with a structured blazer, nylon sport pants and running suits fused with red-gala shaped garments. There were running tops and cycling shorts made out from ribbed socks and the finest organza joined together by the bright neon colours, main point of the whole collection.
A cast of supermodels and athletic champions were chosen to display the collection including the notorious supermodels Bella Hadid and Kendall Jenner, and sports hero's Dina Asher-Smith and Vashti Cunningham.
The result was "NIKE COUTURE".