WE TRAVELLED TO AUSTRIA TO VIEW THE AW18 COLLECTION OF HANRO!
Before we welcomed in the New Year and the cold of January, Account Manager Victoire and Managing Director Andre traveled to Dornbirn in Austria, to attend the Hanro of Switzerland collection presentation Fall/Winter 2018.
Read on to hear more about their time staying in the Vienna House Martinspark Dornbirn, Austria's first architectural hotel, known for its charming hospitality and thoughtful sense of style, informed by a contemporary collection of art. Whilst the business trip consisted primarily of communicating exciting plans for the future of Hanro. As well as learning about all the new locations where you can now shop Hanro, there was plenty of time to wander around the village and enjoy local cuisine.
On the first evening the team were welcomed to a party in an historic museum, serenaded by a vocalist accompanied by a live piano player. The catwalk show begun whilst Apero was shared out amongst the guests, and the Autumn Winter 2018 collections were worn by male and female models. After perusing the next season's pieces, the evening saw dancing and a relaxed supper of buffet food, finished with a trip to markets to sip mulled wine.
The second day of the trip saw a more in depth look at the new collections, divided by gender but both with the overarching themes that Hanro has come to be known for, luxury, classicism and quality culminate in a modern aesthetic.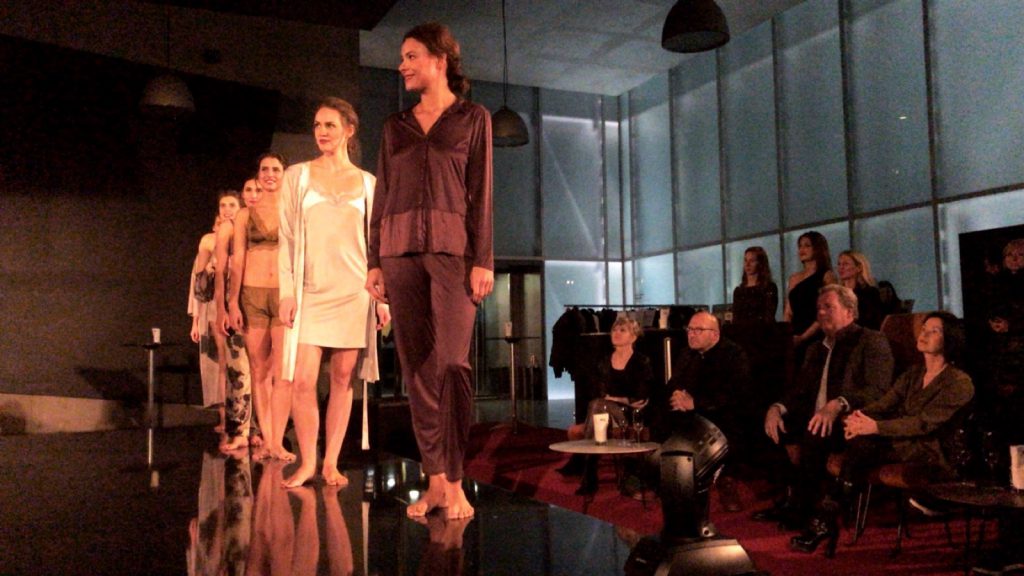 Dornbirn, Austria
Dornbirn itself is an alluring quiet retreat overlooked by the Karren Dornbirn Mountain. A trip up the mountain in a cable car provides the best view and opportunity to take aerial photographs of the border countries of Germany and Switzerland! The natural beauty makes for a refreshing trip away from the city. This concept inspired the AW18 Hanro collection! The collection was influenced by the juxtaposition between vibrant city life and calming mindfulness.
We highly recommend Austria for throwing yourself into hiking, admiring the natural world and enjoying wholesome food. Everything you need from a winter getaway!